About China & Asia Travel Service
Incorporated in New York since 1995, China & Asia Travel Service is an official tour operator from P.R. China and a proud member of Pacific ASIA Travel Association (PATA) and American Society of Travel Agents (ASTA). With over 30 years of experience in China travel industry and serving North America in the past 15 years, Sunshine Travel has delivered nothing but top quality services with the competitive prices. PATA New York & Florida Chapters have also recognized China & Asia Travel Service as the "Pacific Asia Specialist" for years of superior service provided and dedication to strive for the best in the industry.
China & Asia Travel Service specializes in customized tour packages for groups and individuals to mainland China, Hong Kong and other Asia destinations such as Thailand, Vietnam, Cambodia, and India etc. All tours are carefully selected and planned so that travelers will gain unique experience out of each tour. With the flexible service, customers have the freedom to design their own itinerary or modify the package to fit his or her own specific needs.
All tour packages include licensed English speaking tour guides, daily sightseeing arrangements, all domestic transportations and hotel reservations. All tours have guaranteed departure based on 2 participants, including exotic destinations such as Tibet and Silk Road tour.  All departures can be arranged based on clients' own travel dates.
China & Asia Travel Service also provide the convenience of travel related services such as: China visa application, China train booking, China flight booking, Cell phone rentals in China, travel insurance, etc.
In China, all of our tours and services are provided by the top official travel authorities, such as China International Travel Service (CITS), Overseas Tourism Co-op (OTC) and China Travel Service (CTS).
With China & Asia Travel Service's solid experience in China travel business, our reputation and expertise will ensure guaranteed quality on all tours and travel services. Our team is committed to provide our customers with the ultimate travel quality and experience.
China & Asia Travel Service specializes in:
China visa for groups and individuals.
Year-round packages and tailor-made tours for groups and individuals.
Reservation for all flights, train and Yangtze River cruise, transfer, and hotel reservation China and Asia.
Side/extension trips to other Asian destinations.
All land arrangements and services for Chinese business or leisure travel from China to USA.
Awards & Recognitions:

Special Consultant appointed by
Hunan Tourism Association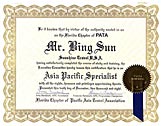 PATA - Asia Pacific Specialist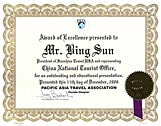 PATA - Outstanding and
educational presenter