---
Yunnan Province remains the most popular region in China for its breathtaking and varied landscapes, from the snows edging the Tibetan plateau to the tropical rainforests of the south and the greatest number of plant species in China (more than 18,000) as well as an incredible array of animals.
Yunnan Province is endlessly fascinating. There are 25 different ethnic minorities in Yunnan, making it the most culturally diverse province in China. With our customizable tours, you can enjoy the charm of Yunnan through amazing nature scenery, diverse ethnic cultures and pleasant year round climate.
Popular Yunnan Attractions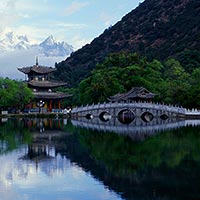 Kunming
Kunming, capital of Yunnan Province, with a history of more than 2,400 years, owes its importance to the fact that it was the gateway to the celebrated Silk Road that facilitated trade with Tibet, Sichuan, Myanmar and India. Today the city is the political, economical and cultural center of Yunnan and the provincial center for transport, science and technology and consequently has become the most popular center for tourism in Southwest China.
Lijiang Old Town
The Old Town of Lijiang is a well-preserved city of ethnic minorities and culture. It is a central town of the Lijiang Autonomous County of the Naxi Ethnic Minority in Yunnan Province. Located 7,874 feet above the sea level, the Lijiang Old Town is built along the lie of mountains and the flow of rivers, providing a very precious sample of the research on the ancient architectures.
Dali
Dali is a city that combines history with modern convenience. It is divided into two areas- the Ancient City and the New District. The Ancient City is centered around the ancient city of Dali first built in the Ming Dynasty. Ancient buildings, city walls and the old city moat are the sites most frequented by visitors. Xiaguan, located to the south of the Ancient City, is where the government, hotels, public squares, and modern shopping centers located.
Shangri-La
Also known as Zhongdian, Shangri-La is inhabited by many different ethnic groups, with the Tibetans comprising the majority of the population. There you will have an opportunity to experience Tibetan life and learn about their lifestyle, religion and cuisine. The unique scenery, highlighted by plateaus, together with the fascinating ethnic culture makes Shangri-La very attractive and charming to visit.