---
| | |
| --- | --- |
| Rating: | 5-Star |
| Year Built: | 1995 |
| Renovation: | 2008 |
| Width (ft): | 54 |
| Length (ft): | 300 |
| Cabins: | 110 |
| Presidential Suites: | 2 |
| Deluxe Suites: | 3 |
| Passengers: | 212 |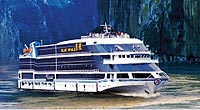 The M.S. Blue Whale is the only ship on the Yangtze outfitted with blue tinted glass allowing you to peer into bright sky and hidden vistas. It was constructed based on the standard of 5-star sightseeing ships and aim at catering to the international growing need of comfort, convenience and security. After a major upgrade and renovation, each cabin has its own private balcony allowing guests, from the privacy of their cabin, to enjoy the alluring scenery of the Yangtze.
This ships is 91.5 meters long and 16.4 meters wide with 5 decks and the capacity of 148 persons. Besides 6 luxury suites and 69 standard rooms, the ships have dining hall, bar, view hall, gymnasium, multifunctional meeting room, beauty saloon, clinic, business center and shop. The ships are also equipped with center air conditioner, satellite TV and radio system which enable the communication with outside to be quite convenient. She is also equipped with the most advanced navigation equipment including state of the art GPS, SONAR and RADAR; her captain and crew are among the most experienced, assuring a smooth and successful journey.
Many powerful politicians, important global business leaders and world-renowned personalities have cruised on the M.S. Blue Whale. The large conference room is the best possible conference site on the Yangtze. This is an ideal cruise conference option.