---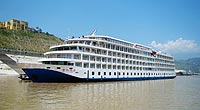 New Century Cruises offers modern facilities including business centres, reading rooms, fitness areas, sauna and massage rooms, internet cafes, gift shops, beauty salons and much much more! Organised onboard activities include feature lectures on Chinese history and culture, Tai Chi lessons and calligraphy demonstrations.
Your stay onboard will be further heightened by the luxurious 5 star cabins; the roomiest cabins on the Yangtze all fitted with private balconies to aid your observation of the beautiful and spectacular Three Gorges. In addition to this every cabin has 5 star hotel standard of all-cotton linen and bathroom products.
New Century Cruises is the only cruise line operating on the Yangtze that has a Grand Atrium lobby in each ship; in addition, three of the cruisers are fitted with observation elevators to really enhance your Yangtze experiences. If you are feeling social, join the crowd on the giant observation lounge with a comfortable viewing platform offering various entertainment activities including nightly live music. All cruisers have a superbly stocked bar with panoramic views on deck 6.
New Century Cruises Highlights:
The only fleet with all ships built after 2003
The only fleet with a Grand Atrium Lobby in every cruiser
The largest number of vessels with mid-ship sightseeing elevators
The only fleet with private balconies in all cabins
The largest standard cabins of any Yangtze fleet
The only fleet with a sun deck bar or an a la carte restaurant with panoramic views
Advanced purified water systems, purified water to cabins on the Century Diamond
European hospitality experts providing personal management on every ship
International 5 star quality all-cotton linen and bathroom products
A western style buffet for breakfast, lunch and a Chinese Banquet set dinner for each day
A large selection of Chinese cultural exercises such as Majong, Chinese 101, folk dancing and TaiChi
On board entertainment including local opera and ethnic dancing
Award winning movie channels, CNN, HBO TV international channels