---
| | |
| --- | --- |
| Rating: | 5-Star |
| Year Built: | 2006 |
| Width (ft): | 52 |
| Length (ft): | 340 |
| Standard Cabins: | 109 |
| Presidential Suites: | 2 |
| Deluxe Suites: | 6 |
| Passengers: | 218 |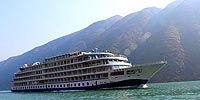 M.S. Yangtze 1 Cruise is a superb five-star deluxe ship started operation in 2006. The ship is 104 meters long, 16 meters wide with 6 decks. There are 109 standard rooms, 6 deluxe suites, 2 presidential suites,all equipped with satellite TV, central air conditioning, telephone, acoustic system, and independent bathroom.
Its other main facilities include: business center, sauna & massage room, book bar, cigar bar, gymnasium, recreation room, multifunctional conference room, etc. The ship adopts high-tech navigation system and remote control device to ensure safe navigation, devotes all its power to build a luxurious, homelike and comfortable home on water for the guests.
The utmost of luxury, the Presidential Suite has over 5000 square feet of unmatched grandeur, designed and decorated based on five star hotels. The Presidential suite includes the Sunshine Suite and the Angel Suite, State Guest Lounge, and a massive private Yangtze Viewing Deck.
M. S. Yangtze 1 has been exclusively appointed by the Chinese Government as the "State Guest Cruiser" to host state leaders, visiting dignitaries and officials from around the world. In addition to her unmatched, superior facilities, guests will also be impressed by her outstanding management and service standards. The delicious food prepared by our onboard chefs, long list of superb cocktails, and memorable entertainment, will all become part of your memory of an unforgettable journey down the Yangtze.