---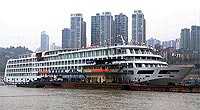 Wuhan Yangtze Cruise Co., Ltd. (WHYCC) is the 1st professional cruise company specialized in the Yangtze River package tours. It owns the famous brand fleet of 6 luxurious Presidential Cruises,namely: M/V President No.1, M/V President No.2-Yellow Crane, M/V President No.3-Splendid China, M/V President No.4-Yangtzejiang, M/V President No.5-Snow Mountain, and M/V President No.6-Yangtze Paradise, all of which have certificates approved by China Classification Society and the National SMS System., and rated officially as 4 star and 5 star deluxe boats respectively by China National Tourism Administration.
It enjoys a high reputation in the competitive market as a large deluxe cruise company.To meet the growing needs, the company is planning to build the largest, most updated and most deluxe supper 5 star boat on the Yangtze River--- the Presidential Flagship.
Over 300,000 passengers have traveled on Presidential Cruises in the past years, including VIPs from home and abroad and have also hosted summit meetings, conferences and exhibitions on board. The company has now over 600 staff, all with rich professional experience and good command of foreign languages
About President Prime Cruise:
Scheduled to launch in April 2011, the President Prime is the breakthrough of traditional cruise facilities and services for the presidential fleet, which marks the new generation of super 5-star boat on the Yangtze River.
It features both deluxe classical European style and modern comforts. Its spacious public area, lobby, restaurants, banquet and conference facilities are unique in design and decoration. It boasts the highest passenger capacity of all vessels sailing on the Yangtze River with 187 cabins for 374 passengers in total (2 President suites, 2 Deluxe Suites, 32 Executive Suites and 151 Deluxe Cabins with balcony). The whole ship is central air-conditioned. Each cabin is equipped with satellite TV that can receive HBO and CNN programs, satellite telephone, a private bathroom with a shower or bathtub and a private balcony which enables passengers to appreciate the magnificent views of the Yangtze River any time in their own cabin.
About President No.1 Cruise:
Being the flag-ship of the Presidential Cruises, M/V President No.1 is one of the most prominent 5 star deluxe boats on the Yangtze River, with most spacious public areas on board.
It is of 5 decks, 90 meters long, 16.8 meters wide and 17 meters high. Her total 94 cabins can accommodates as many as 188 passengers, with 2 President Suites, 2 Deluxe Suites, 16 Deluxe Veranda cabins and 74 Standard Veranda cabins.
In January, 2008, the ship was re-decorated with millions of Yuan invested. Now all her cabins have private balconies The ship is known as one of the best deluxe boats on the Yangtze River not only for her largest space in public area and complete range of public facilities, but also for her elegant decoration and outstanding service.